I thought I'd take a break from posting pictures of scenery and museums and show you some pictures of fooood. For our first night in Paris, we decided not to wander too far from our neighbourhood, and in the company of our French colleague who was our guide, walked around the hotel searching for a nice looking restaurant. After a bit of walking, we discovered Pierre au Palais Royal along rue de Richelieu. It didn't look too overwhelmingly expensive and had a decent number of "Voted Best" stickers in its window, which suggested it was quite well regarded in the food circles.
We were the first in the restaurant, but then that was probably because we had walked in at what was considered an early time for dinner in Paris - 7.30pm. Since we were such a large group, the waitress suggested we go for a set dinner. This is what I had:
Starter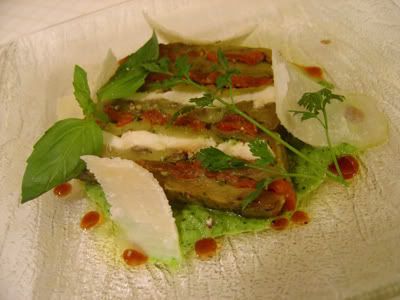 Aubergine, sundried tomato and goat cheese
Mains
Scallops
Dessert
Macaron with homemade vanilla ice-cream and chocolate sauce
Verdict:
The starter and mains were excellent, but I was slightly disappointed by the dessert (the macaron tasted rather flat, and didn't have the right texture). I think I should have taken the molten chocolate cake instead.
Pierre au Palais Royal
10 rue de Richelieu
Cost: 44 euros