For our work dinner, our French colleague booked us a looong table at Bistrot Vivienne. He picked the place for a) its close proximity to our hotel, b) the fact that he had been there previously for a friend's birthday and thought it wasn't too bad, and c) the restaurant had a separate private space for about 20 noisy people.
Although I've read some pretty good reviews online, I actually thought the food was nothing to shout about. But I think it might have to do with the fact that the restaurant created a special menu for us (choice of 2 starters, mains and dessert) and therefore couldn't spend too much time on quality.
I'm sure there's a fancy French name for this, but all I can remember is it's goat cheese with sundried tomato on toast. I enjoyed this very much.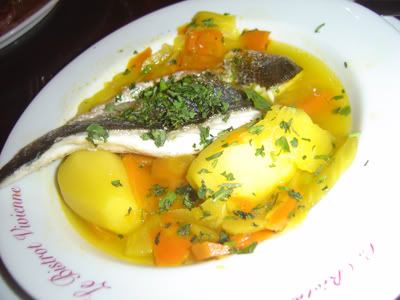 Mains was a choice of steak frites or fish. In an attempt to be healthy, I opted for the fish, which as you can see, came in a light stew of vegetables. The soup had a nice, clean taste, but I suspect the fish wasn't too fresh as it tasted slightly fishy. Verdict: so-so.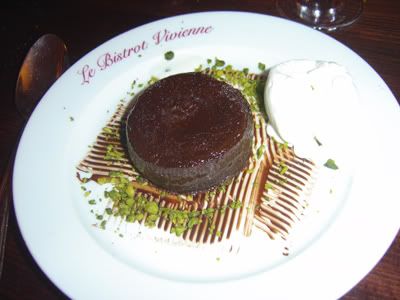 Being a chocolate fiend, there was no question as to whether I should pick the creme brulee or the molten chocolate cake. Unfortunately, the cake did not quite live up to expectations; the chocolate didn't ooze out when pierced. I've actually tasted better molten cakes back home at places like Wild Rocket and even Baker's Inn (back before it became the horribly-spelt Bakerzin).
I guess if I had more time, I might have gone back to the restaurant to try their a la carte menu, which I'm hoping would have been better. Nevertheless, it was a fun dinner. I liked the atmosphere in the place - it was cosy, comfortable and not at all pretentious. This is where I had my first Kir Royale (which quickly became my choice of poison in Paris), learnt how to toast people the French way (you say "Sante!" and look them in the eye), and got to see my colleagues get happy high and take numerous silly photographs of each other.
Bistrot Vivienne
4 rue des Petits-Champs
And because I have nowhere else to post this:

Dinner with some colleagues at a random restaurant along the main road somewhere in Montmartre. We wanted to try
Chartier
, but the queue to get in was too long and we were just too hungry to wait, so we skipped over to the other side of the road and entered the first restaurant we saw. We all opted for the set dinner. Mine was the pate, steak frites and fruit crumble (not pictured, but was the best part of the meal). The food was quite unexceptional, but for about 20 euro for the entire meal, we weren't complaining.