I think we have a vast amount of creative talent in Singapore, as evidenced by the quick sprouting of little websites featuring pretty, quirky handmade jewellery. Ms
Guise
brought my attention to the delightful
Crymeajustin
, and it reminded me of a few other sites I've found while trawling the web:
Adorable brooch from
Gleam In Your Eye
Tatty Devine lookalike brooches and necklaces from
Frufru.net.
They also have funky earrings and retro-looking clothes.
Custom-made jewellery from
Divaesque
. (Actually I didn't find this on the web, this was a recommendation from a friend)
Update (July 3):
With more great recommendations coming in, I'm adding them to this post. Thanks everyone for the links!
Beautiful handmade earrings from
Abigael the Beading Lady
. I'm going to have to order me a pair soon!
Elegant pieces from
Moondust
.
Not exactly DIY, but this Singapore site features gorgeous and unique accessories from Paris. Be warned though,
L'arti Chaut
is expensive.
Summery designs from
Summerfly
.
Update (11 July):
And the links keep coming in!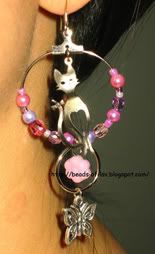 Intricate earrings from
Beads of Lav
.
Be charmed by
Baileysvodka
.