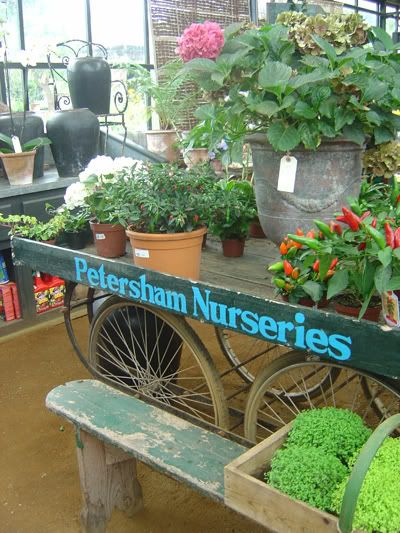 The best thing to do coming back to work after a bank holiday weekend is to go for an indulgent 3-hour lunch. In our defence, we had good reason as it was a farewell lunch cum baby shower. I'd read about
Petersham Nurseries
and its celebrity chef Skye Gyngell from various food magazines and blogs, so was mightily pleased that it was picked as lunch venue for the lunch party.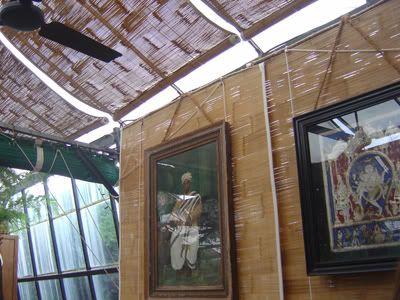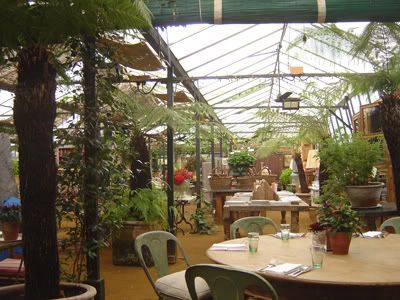 I love the rustic look of the place, and the fact that it's not fussy or overly done. Outside is the nursery, where you can buy overpriced pots, plants and other gardening-like accessories. I guess if you can afford to live in Richmond, you can afford to buy £10.50 chillis. Inside next to the shop is the cafe/restaurant, which seems to have a very Indian flavour, what with the numerous paintings of maharajahs and Ganesh. I also liked the colonial flavour of louvred windows on the roof and the ceiling fans. It's a pity the place doesn't open for dinner, because it would look so pretty with fairy lights on.
The clientele looks like lots of old ladies who lunch, with a sprinkling of young families.
But more importantly, moving on to the food...
For my starter, I had
empanadas of scallops
to go with my
strawberry prosecco
. I wish I could say I enjoyed the salad, but unfortunately I think one shouldn't mess with the delicate taste of a scallop by chopping up into tiny bits and putting it into pastry. I couldn't taste any scallop, and the overall dish was too salty. The prosecco, on the other hand, was delicious.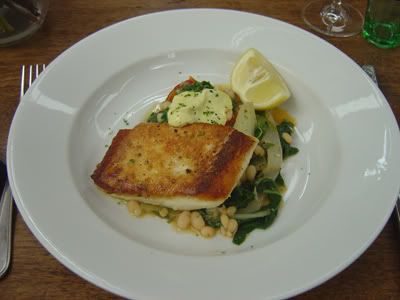 The
halibut with swiss chard and aioli
fared much better. Although just a teeny bit too saly, the fish tasted very fresh, and I enjoyed the crunch of the veggies. Not too keen on the beans though, so I didn't touch those.
A few people had the
filet beef
which was served medium-rare and at room temperature, and they declared it was lovely and tender.
There was a gorgeous chocolate mousse with jersey cream, but as I was trying to eat more healthily (ha!), I opted for the
turron ice-cream
for dessert. Delicious!
After washing down the meal with rose tea, we slowly barrelled our way through green fields, the river and back to the office. Petersham Nurseries is a lovely place for a meal, but I do think it's a tad overpriced. Definitely a place to go for a special occasion. Next time I'd like to go back there during tea-time and try their cakes.
Parting shot. Guess which foot is mine :)
Petersham Nurseries
Off Petersham Road
Richmond, Surrey
Tel: 020 8605 3627