#32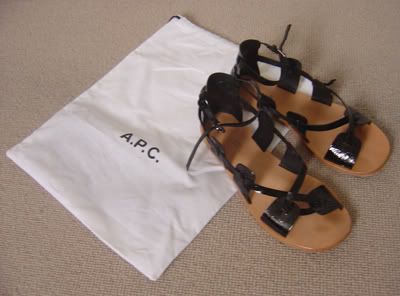 The Shoo:
Hippie Gladiator
Circa:
July 2008
Where:
www.totokaelo.com
The Story:
I was wondering how long it would take me to fall victim to the gladiator brigade, and was just smirking to myself that I seemed to be immune to the latest shoe-trend. Apparently I smirked too soon, because my daily gander at
Style Bubble
introduced me to
Totokaelo.com
, a Seattle-based company which was screening members to browse and shop their site. While it sounds very exclusive and snooty, it's not. Well, it can't be, cos they let me in, heehee. Anyway, once I managed to sign up to their site, I browsed through and fell hard hard in lurve with these sandals.
Patent, strappy, comfortable and on sale? Sign me up, baby. The only unfortunate thing about them is the sizing. A comment on the website said they run small, and it's better to size up, but that doesn't seem to be the case for me. It's not too much of a problem since it is strappy, and does make for a very comfy width.
My only trouble now is concocting outfits to go with them. So far, I've come up with skinny jeans and dark dresses.
Bonus!
Apparently just one shot is not enough to show you the extent of their awesomeness.