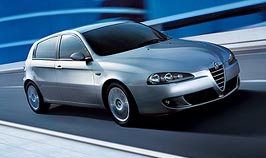 Zoom zoom zoom...it boils down to these two
You might have gathered from the last post that I'm shopping around for a new car. Am currently driving a Mazda Astina and its 10 years are coming up fairly soon. Since COE prices are relatively low now, I figured I might as well get a new car instead of another second-hand. And also cos my father said he'd help out some with the finances. hehheh.
Ever since I made the decision to go car-shopping, I have been scouring the roads for nice models, and when I find one I like, I drive alongside and try very hard not to stare. After much 'research', I have decided that the best car colour is gunmetal grey. Black is great but just not practical for this hot weather. So whatever my next car will be, it will be gunmetal grey. I'm glad I've got the important things sorted out. :)
The first car I wanted to get was the Mini Cooper - so cute, so retro and so zippy. Somemore is Bee-Em-Dubchoo engine. But then it's only 2-door, and since this car will essentially be the family car on weekends, it will need to have 4 doors. I can't imagine my mum climbing into the back seat; she's just not that sprightly anymore. So sad too, cos there are a whole lot of 2-door cars that I am liking vely much, like the Honda Integra. rowr.
I briefly considered the
Peugeot
, and even the
Lexus IS
, but after much consideration, have decided the Peugeot is too bubble-like (incidentally, I could do a whole rant on how the new shape of cars now are too bubbly. What happened to sleek and sexy? Cars should look fiee-erce!) and the Lexus, well, it's a bit too above my price range.
Have boiled down the choices to these two - the
Alfa 147
(2 lit version) and the
Mazda 3
. Of course am leaning towards the Alfa...them Mazda 3s are everywhere...
PS Oh yes, if you're looking for ShooStories, I err...heh...have to admit I have been a bit lazy. But I promise there will be one tomorrow. Get ready for the Family Flip-flop Extravaganza!