For my father's actual birthday (we celebrated it officially with dinner at Au Petit Salut earlier), we went to Restaurant Ember at the Hotel 1929 for lunch last month. We hadn't gone back there in the last 2 years, so it was about time to pay another visit.
There's a very comprehensive set lunch menu, which allows you to pick from quite a variety of starters, mains and desserts. Overall, the food is still good, but it seems to be lacking a little of the refined taste it used to have; in fact, I don't recall the dishes being this salty.
Starters (L): my father had the
foie gras
, while (R) I had the
soft shell crab
. He wasn't terribly impressed by it, while I enjoyed mine. The crab had the right amount of crunch, and the wasabi mayo that accompanied it gave it an extra bite.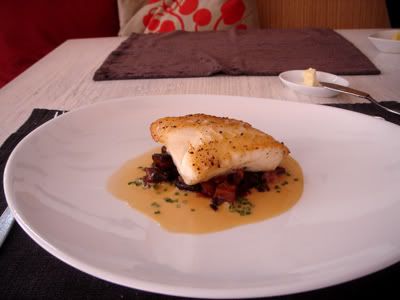 Pan seared chilean seabass
with mushroom and smoked bacon ragout, truffle yuzu-butter sauce. Overall very tasty, but too salty. Didn't take pictures of my dad and sister's mains, cos they had already started eating. I'm not a very good food blogger. :)
For dessert, my father had the
banana tart with lavender ice cream
, while I had the
molten chocolate cake
. The staff were nice enough to add a candle to his dessert. Both desserts also were not up to scratch, with the banana tart being a little too dry, and my molten cake a little too floury and not a very satisfying chocolatey taste.
I've always liked the food and ambience at Ember, so was quite sad to see that the standard of food seems to have dropped. Ones hopes that the standard is better at dinnertime. With cheaper lunch deals in the area (like Oso and Le Papillon), I'm afraid I won't be back here for lunch in a while.
Ember
Hotel 1929
50 Keong Saik Road
Tel: 6347 1928