One can't go to Paris and not have a meal at a traditional French bistro, right? Like Chez Omar, I found Chez Paul through Google and figured all those good reviews couldn't be too far wrong. Getting there was a bit of an adventure on Monday night, because there was a bomb scare in the Metro, and to be safe, the authorities closed off a certain route and we had to map out an alternate (and more convoluted route) to finally reach our station. The good thing is when you're on holiday, these sorts of delays don't bother one as much. We had all the time in the world, and we didn't have to worry about the restaurant closing since we knew Parisians like to have late dinner. But oh boy, I was hungry by the time we sat down at our little outdoor table.
Old school menu. The recommended dishes were underlined.
The food, like the place, was solid traditional French food, without any pretensions or fuss. Even the menu is handwritten! Food-wise, I'd say the closest equivalent to what we can get here in Singapore would be L'Angelus on Club Street. We were tended to by a waiter in really thick glasses with a minute moustache and a rather quirky sense of humour. His english wasn't very good, so he wasn't able to translate the entire menu for us, but luckily, being the Paris 'veterans' we were, we were able to identify basic meats like chicken and fish.
I had a chicken with foie gras sauce (it was highly recommended by the table next to us), while my friend went for pot au feu.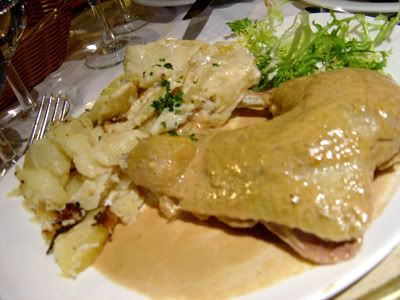 Dessert was something called a babar (the waitress couldn't seem to translate it for us) with a liquer sauce. It tasted like bread & butter pudding, with more of a cakey texture. I wasn't too much of a fan, but then I'm more of a chocolate person when it comes to dessert.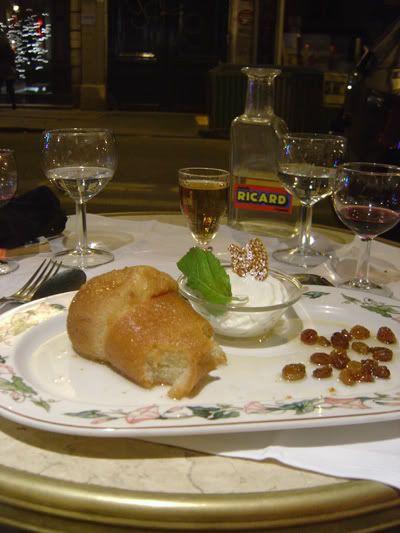 We each took a bite before remembering we hadn't taken a photo of dessert yet. Hee hee.
All up, a very satisfying meal.
Chez Paul
13 rue de Charonne, Paris 11, Bastille
Metro: Ledru-Rollin
Cost: 30-40 euro per person