Without a doubt, dinner at Chez Omar was my best meal in Paris. I found the Moroccan restaurant by doing some googling and reading what
others
said of the place. Every review I read mentioned the good food, the unpretentious dining atmosphere and the fairly reasonable prices, so when it came to deciding where to eat on our last working day in Paris, I cunningly managed to persuade all my colleagues to eat there.
After a half hour walk from our hotel (never trust what looks like a short distance on your map!), we arrived cold and hungry, ready to eat up a storm. There were a couple of hiccups at the start as none of the waiters spoke English (or rather, refused to admit they understood English), until finally one guy stepped up and did the painstaking job of translating everything on the menu for us...3 times (bahaha). We seemed to be a novelty to the waiters, as they stood around watching us most of the time despite how crowded the restaurant got, but I like to assume that's because they just couldn't tear their eyes off a veritable United Nations of 6 girls (3 Americans, 1 Australian, 1 Hong Konger, and me the Singaporean).
Hello boys!
The food definitely did not disappoint; everything we ate was delicious and at this point, I'm just going to stop talking and let you see for yourself.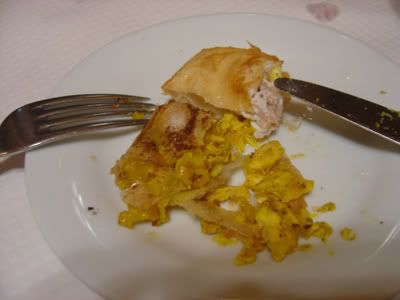 I forget what this is called, but it was like a spring roll filled with meat. We ordered 1 in chicken and the other in fish. Don't be fooled by the appearance, they tasted wonderful! I liked the chicken better.
One of Chez Omar's specialties is couscous. My colleague ordered the lamb couscous and I managed to try a little. The lamb was beautfully crisp on the outside and tender on the inside and incredibly flavourful.
I had steak frites! The menu stated pepper sauce, but it turned out to be a superb mushroom sauce. The fries came in a big platter for all of us to share, with a couple of side dishes of vegetables in a stew and some french beans.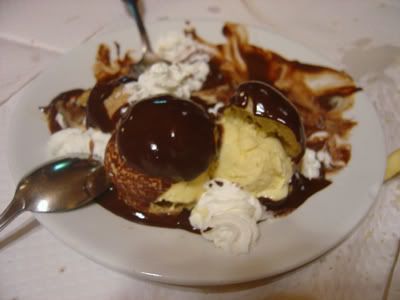 To finish off, profiteroles. It was one of the girl's birthdays, so they stuck a sparkler on it when they brought it out. The combination of vanilla ice-cream, fresh cream and an amazing chocolate sauce sent me straight to heaven.
Chez Omar
47 Rue de Bretagne
Cost (per person:) about 33 euro