Sunday brunch at Wild Rocket
Originally uploaded by JellyGirl.
Having heard so much about Wild Rocket's Sunday brunch menu, I suggested it as the place to go to celebrate B's birthday. I've always liked going to Wild Rocket, not least because it's in such a pleasant location. It's like peeling the city off your skin as you drive up past shophouses, a little park, and onto the quiet hilltop with free parking.
It was a little difficult choosing what to eat. While I absolutely love breakfast foods like pancakes and eggs on toast, I also dearly wanted to try the
wild rocket burger with sundried tomato salsa
or the
Willoughby bangers & mash
. Thankfully, when dining with friends, you can always arrange for each person to pick a different dish, so while B and L ordered the burger and bangers & mash, I got to indulge my sweet tooth and ordered the
jackfruit pancakes with maple syrup
.
I have to admit I was slightly disappointed when my pancakes arrived. While the burger looked divine, oozing juices and salsa, and my friends' bangers & mash and
crab linguini
looked quite impressive too, mine looked rather small and sad by comparison. The pancakes however did taste yummy, and I was pleasantly surprised to see that there were pieces of jackfruit hidden in the pancake batter. There was also a slice of deep-friend jackfruit as an added sweetener by the side. I only wish I had a little more maple syrup to go with the pancakes.
As we were waiting for our food, we noticed the waiter bringing out an order of
smoked salmon with egg on toast
to another table. It looked absolutely delicious and we all wished we ordered it. Luckily, one more friend hadn't arrived yet, so when he finally made it, we coerced him into ordering it, so we could try some too. We found out when chef Willin Low came out to chat with us that the funny thing about the salmon was that they have days where nobody would order the dish, and other days where the moment one person ordered it, everyone in the restaurant would want it too.
I finished off my meal with my favourite Wild Rocket dessert - the
strawberry cheesecake with maple walnut ice-cream
, while L had the
tiramisu with kueh buloh
, and T had
coconut ice-cream with gula melaka
(she said it tasted like chendol). And as for the birthday boy, he got a special
molten chocolate cake with flambed bananas
with a little candle stuck on the plate.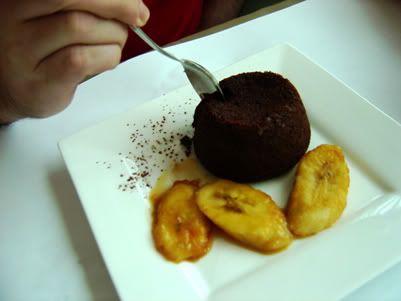 After brunch, we went upstairs to look at the rooftop and admire the view before heading off our separate ways. I went home and had a very satisfying 2 hour nap. I think it was the mojito that did it.
Hope you had a great birthday, B! :)