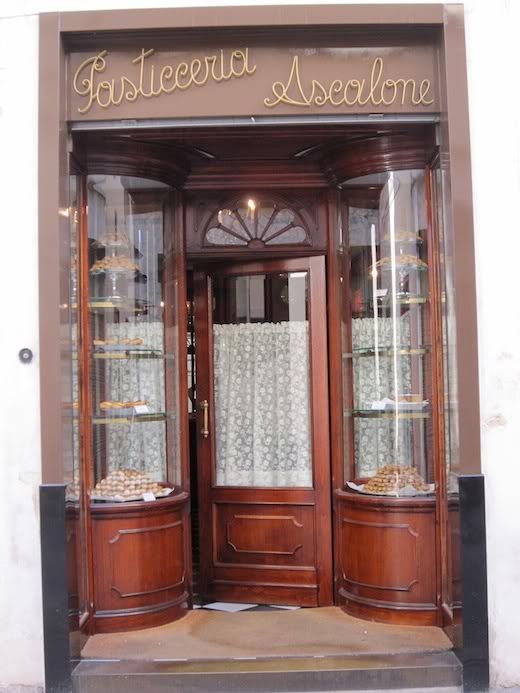 It was the shopfront that attracted me first. The old-fashioned door, lace curtains, enticing baked goods on display and a tantalising peek of the interior's equally old-timey counter and patchwork floor had me hovering outside for a few minutes. I watched as people went into the shop and came out with little neatly-wrapped packages. The village shuts down after lunch for siesta. Was the place still open? Finally, I gathered my courage and went in.
As it turns out, my fear of speaking Italian was unfounded. Much can be achieved by pointing and using your fingers. The lady at the counter was very smiley and friendly, and the baker himself, a big man in white with his apron still on, came out and wrapped up my purchases himself. In 5 minutes, I walked out with a little neatly wrapped package of my own. They'd tried to explain to me what the pastries were, but with my masterful command of the language, only got as far as understanding they were cream-filled.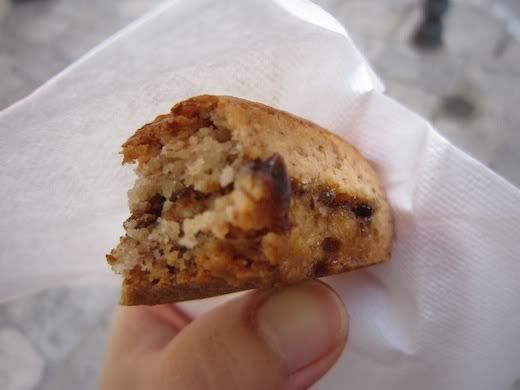 Little biscuit with ground almonds and dates
Later on, I found out that almonds are used a lot in desserts in Puglia, and this pasticceria specialised in old recipes passed down from generation to generation. The Ascalone family has been baking these almond biscuits and cakes and pastries for years and years, and have not changed the recipe in any way. Everything I tried was delicious, and I wish we had more bakeries with such a history in London or even Singapore. There's a lot to be said in heritage and keeping it alive.
Delicious cream-filled tarts