The best meals we had were at a tiny family-run restaurant a minute's walk away from where we were staying in Galatina. It feels like you're eating in someone's home, what with the warm welcome from the husband (who does front-of-house and all the entertaining) and the wife (who does all the cooking), and fabulous home-cooking.
There's no menu here. Instead, just walk in and trust that you'll be well taken care of. When we went in for lunch, the husband plonked down a freshly chilled bottle of rose on our table. The wife came out and asked us in Italian if we had our appetites. That was a sign of things to come. Lunch was a good 3 hours, but oh, was it worth straining our tummies for.
Antipasti
: ricotta, aubergine, zucchini, pumpkin, artichokes, green beans, potato cakes, white bean mousse eaten with toast. That was like a meal in itself.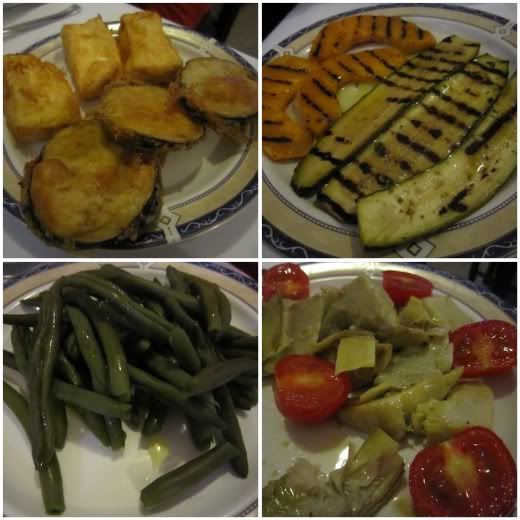 Primi
: A deceptively simple but totally tasty orecchiette eaten with a huge cake of fresh ricotta.
Secondi
: The star dish was the beef, but the polpette (meatballs), meatloaf with pancetta and veggies were also bursting with flavour.
Dolci
: A massive bowl of fruit was placed in front of us. I decided to have kaki (persimmon) and an apple. A bottle of homemade coffee liquer was also brought out for us to enjoy
We enjoyed lunch so much that we went back there again for dinner on our last night in Puglia. While lunch was very meaty, dinner was all about seafood. It was a beautiful way to finish our holiday.
Antipasti
: Prawns, mussels, langoustines, oysters, anchovies
Primi
: A huge basket of seafood linguini was placed in front of us. Although I'd vowed to take it easy on the pasta, I couldn't stop myself from slurping up more and more of the linguini. How can you say no to perfectly al dente pasta?
Secondi
: Whole orata (gilthead seabream)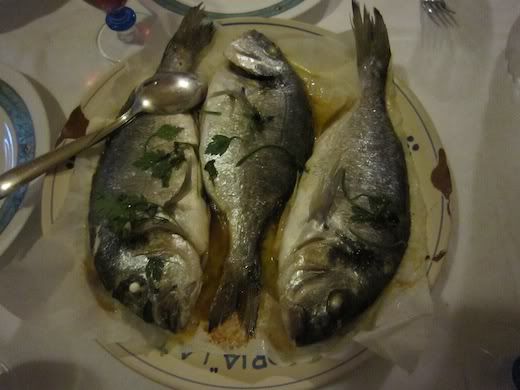 Pure seafood heaven.