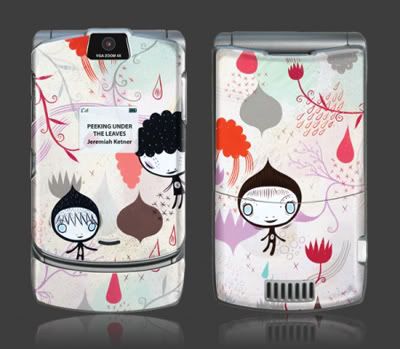 Like getting a new phone!
I've had my Motorola Razr for about 2 years now, and the battery is now at the point where I need to charge it almost everyday if I use it for conversations lasting more than 5 minutes. I was thinking of changing it for the LG Chocolate in pink, but finding
Gelaskins
, a company that specialises in making decorative skins for your iPhone, laptop and iPod, has made me reconsider keeping the phone and just buying a new battery.
PS If you don't have a Razr, but still want sticker goodness on your tech gadget, you can consider getting
makie stickers
from Japan. I discovered these in Tokyu Hands while on holiday last year in Tokyo. I think I spent about 20 min in the sticker aisle trying to decide which patterns to get.