#16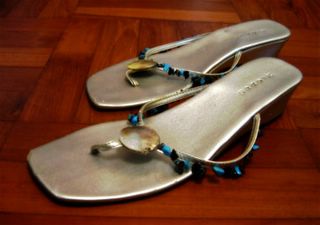 The Shoo:

Ice Blue
Circa:
April 2003
Where:
X:odus, Holland Village
The Story:
I bought this pair mainly because it was on offer at X:odus - 2 pairs for the price of 1. I was with a friend, who had found a pair of shoos she liked so we split the deal, so in essence I paid half price for it. I wore this pair on a few occasions, but the one which sticks out the most is the time I wore this pair to watch
Finding Nemo
.
Up to now, I'm wondering whether it was a date or whether it was just a 'friends' thing. He had already seen the movie, but on hearing that I really wanted to watch it, said he wouldn't mind watching it again. After the movie, which we thoroughly enjoyed, we had dessert at Big O Cafe (he paid). It was the first time I was with him on a one-on-one basis, previously we were always in group situations so I never had the chance to speak to him for a prolonged period of time. So this session at Big O was a good chance to get to know him better. It was very enjoyable.
My memory is very hazy at this point, but I seem to remember we watched another movie and we went roller-blading at East Coast. But it never progressed beyond that and the feeling I got was always friendly, but never romantic. Shortly after that, he announced to our group that he was going out seriously with a girl, whom he introduced to us and later married.
We're still good friends and I get along really well with his wife. I'm not upset or jealous or anything, but sometimes I do wonder...before he started going out with this girl, was I on his list of prospects?
Bonus!
fake mother-of-pearl