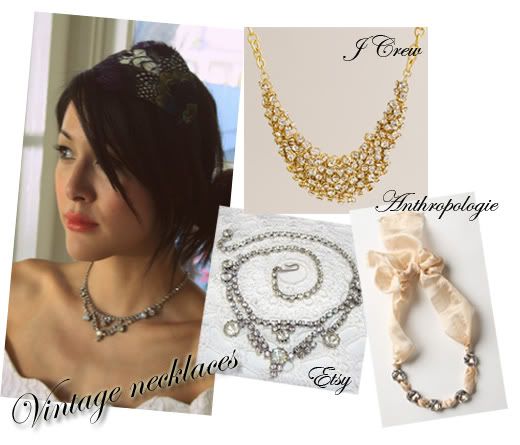 I have a confession to make: a couple of months back, I tore my right earlobe and because of that, I've been unable to wear earrings since. While I'm waiting (and saving up money) to get surgery that fixed, I've had to get my jewellery-wearing kicks elsewhere, namely from necklaces.
Right now, I'm totally loving the vintage rhinestone, slightly art-deco look. A little window-shopping on the interwebs has turned up some very pretty and delicate lookalikes from
Etsy
,
J Crew
and
Anthropologie
. They're mostly pretty pricey and I'm loathe to pay for expensive shipping, especially with the Royal Mail strike going on. Yet another reason to visit Portobello to see if I can find any genuine vintage necklaces.
P.S. If you want to buy that beautiful fascinator, you can find similar-looking pieces from Stylesmith.