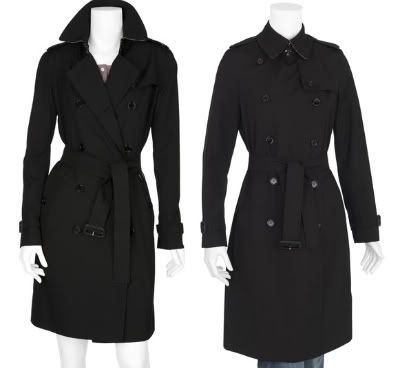 On the left: double breasted trench coat , on the right: classic double breasted trench
I had some spare time this afternoon, so I wandered into Harrods for some window shopping. I managed to persuade myself that I didn't need another matching set of Calvin Klein underwear, and was smugly leaving the building when I walked by the Burberry concessionaire. On a whim, I tried on the
classic double breasted trench
 (pictured right), and am now in serious love. 
Having always wanted a classic trench coat, am thinking this is probably the best time to buy one, since I actually live in a city that requires some trench coat-wearing. Now that I'm at home, I've been looking through the
Burberry website
and am completely flummoxed by the variety of choices in trench coats. How on earth does one tell them apart? Case in point with the two coats above, what's the difference?