Before I gabble on about London, I'm going to show some places I ate at during my little weekend jaunt to KL a couple of weekends ago. Going to KL always means 2 things for me (apart from visiting my dad): eating and shopping. I have a little list of die-die-must-go places, which include Oversea restaurant at Jln Imbi and Cilantro. This time round, I opted to try some new places, as well as mix in the oldies but goodies.
Market Place Restaurant & Lounge
4A Lorong Yap Kwan Seng, Off Jalan Yap Kwan Seng
This is a place I would
never
have found if my dad hadn't brought me. It's a bar/restaurant in a spacious bungalow tucked in a little corner not too far from KLCC. It's a relatively new place, having been around for about 9 months, and unfortunately it doesn't seem like it's doing too well. On a Friday night, my dad and I looked like the only patrons, and when we left, we only saw another couple at the bar. The place is really big, with a new garden for the bbq and a nice upstairs area. Actually, I think it's the perfect party place.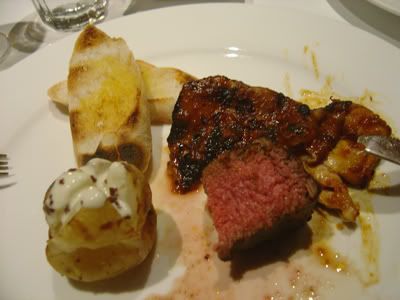 For starters, we had the mushroom soup, which although delicious, was a tad salty and came in such a teeny little portion. Mains was steak and chicken from the bbq menu, and while we thought the steak was lovely and tender, the chicken was quite a disappointment, since it was the manager's recommendation. I liked that we could help ourselves to the salad, which was located outside next to the bbq grill, and I could help myself to as much greens, potato salad and pasta salad as I wanted.
While I was really impressed by the service (we each got a copy of a lounge music CD!) and had a saxophonist serenade us and really like the atmosphere of the place, I really can't in all honesty say the food is anything special. It's not bad, but not fantastic either. That's why for dessert, we headed over to...
Alexis Bistro & Wine Bar
Great Eastern Mall, 303 Jln Ampang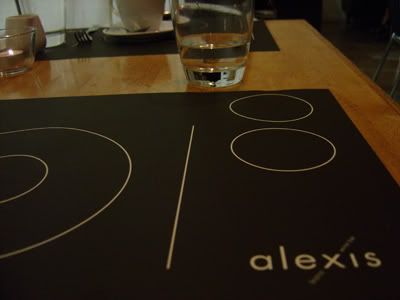 My dad's quite a regular at this place, and he likes to come here for dessert, some drinks and listen to the live jazz. (He says the food at the bistro is so-so). They had a very nice display of cakes, and it took me a while to select the tiramisu cake. I loved it! It had all the textures: crunchy, creamy, spongy, chocolatey and wasn't as heavy as a traditional tiramisu. The raspberry puree at the side was an interesting touch, and actually went quite well with the cake. It was the perfect end to the night, what with a yummy cake in my tummy, and the grooves of Marvin Gaye and Eric Clapton played by a visiting Brit band.
Ah Koong's Seafood
Jln Pudu, behind Berjaya Times Square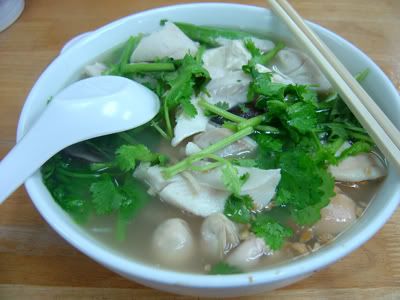 This is one of my must-go places when I visit KL. I guess it's best described as a yong tau foo kind of place, where you pick up a bowl and select your noodles, (I always pick bee tai mak, or loh shee fun), seafood like fresh prawns, pomfret, oysters, hum, abalone, and other goodies like deep-fried fishcake, eggplant, fresh tofu, stuffed ladies fingers and more. My eyes are always bigger than my stomach and I always tend to pick more than I can eat. They then serve it up in a tasty broth with fishballs, garlic chips and chinese parsley. The combination of fresh oysters, pomfret and abalone are to die for! As a bonus, the place is air-conditioned as well, so you don't have to sweat it out while sitting along the roadside.
Ming Room
Bangsar Shopping Centre
The whole purpose of my going to KL was to attend a friend's wedding. The main ceremony was held in Australia, but since I couldn't make it there, I decided to attend their second dinner. I'd heard quite a lot about Ming Room and how good the food was, so was pleased that I'd finally get to try it. The food definitely didn't disappoint; almost everything we had was delicious! I'm definitely going back there next time I visit KL.
As for shopping, there wasn't much time for that, but I did manage to go to Bangsar Village II, which I've heard is the new 'it' place to go. The shopping there is pretty good, and there are a few little boutiques with nice things, and I was very happy to discover a 'high-class' Vincci, where I bought 2 pairs of shoes. Whee!