In case you're wondering whether I've disappeared off the face of this earth, I haven't. I'm just in another continent - in London, land of tea. The trip was made quite hurriedly, and I didn't have much time to plan things to do, but I guess it doesn't really matter as it's a really short one. I got in early Wed morning (London time) and will be leaving Sat evening.
This trip is being sponsored by our London office, and I'm really impressed how generous they're being. They flew me in on Business class on BA, and are putting me up at this
gorgeous hotel
.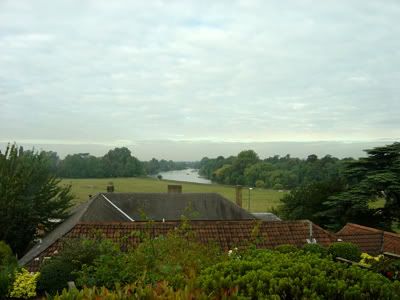 The view of the River Thames from the breakfast room
I think I came at the right time too. The weather is mild and pleasant and it's been sunny the last 2 days I've been here (fingers crossed it'll keep until I leave!). The area where the office is located is in a beautiful part of London, situated right by the river Thames. It feels like I'm in the country!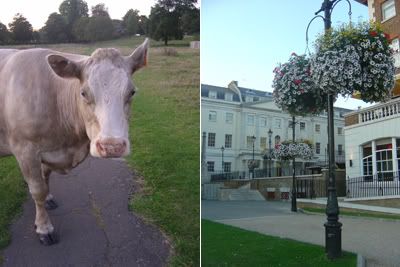 It's like being out in the country!
The only downside is that I'm quite far from central London, which means a 1 hour tube ride. I'm supposed to meet T and P tomorrow to go out parteeing, and I'm still trying to decide if I should bunk over either of them or take the last tube or night bus back to my hotel. I'd prefer to go back, only cos I get to have breakfast overlooking the marvellous view, and also I don't have to worry about rushing back to make the 12 noon checkout time. Hmm decisions decisions.
In the meantime, I'm setting up my tummy for dinner tonight. We're going to eat the famour Four Seasons duck! :)