You can see more photos in my flickr account.
If there was one food you could name which is universally loved by everyone, I would have to say it's chocolate. What else can inspire instant salivation at the mere mention of its name, giant smiles of satisfaction on the first taste, and instantly make a bad day good?
I decided it was time to take my appreciation of chocolate to the next level – it wasn't enough to merely appreciate eating chocolate, I had to learn how it was done. And that's how I found myself at Shermay's Cooking School last Friday afternoon at a chocolate truffle workshop taught by Executive Chef of Au Petit Salut Patrick Heuberger.
I didn't realise how much planning ahead was required, and what a precise science chocolate truffle-making was until I saw the entire process of tempering chocolate. The temperatures had to be right, or the chocolate wouldn't crystallise properly to form the right bonds. Thankfully, we just had to sit back and relax and watch chef Patrick do all the hard work.
While I like to say that I made chocolates, I have to admit that everything had already been made in advance, like the ganache and praline fillings. All we had to do was decide what fillings we would like, and decorate the chocolate truffles. For this class, we had ganache, praline, roasted chestnuts, chestnut paste, marzipan, orange peel, hazelnuts, pistachios and white chocolate to play around with.
There was so much fun decorating the chocolates, I almost forgot that the greatest pleasure of chocolate was in the eating. Since the two boxes could only hold so many truffles, I just
had to
eat the remainder before leaving the class. Oh well. So this is what I ended up with: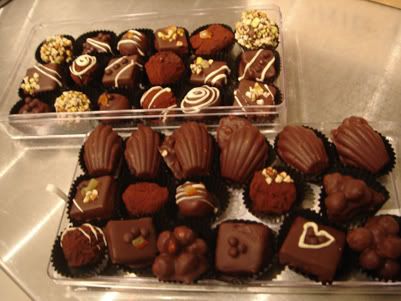 Do you think I can become a professional chocolate maker now?
For more chocolate fun and other great classes, go to:
Shermay's Cooking School
Chip Bee Gardens
Blk 43 Jalan Merah Saga
#03-64
Tel: 6479 8442