One of the things I like to do when flying is to catch up on movies that I've never watched. It's also a great time to discover foreign movies that I wouldn't otherwise have known about while living in London.
Kamome Diner
is a charming movie that I caught on my flight back to London a few days ago. A Japanese movie that was filmed and set entirely in Finland - it revolves around Sachie, the sweet and welcoming owner of a Japanese diner, and the quirky characters she meets while trying to introduce good food to the locals. I won't talk too much about the plot, but suffice to say food is a very central part of the movie. And oh, the food looks so good!
Dinner at home
Nothing like a home-cooked meal to warm the heart
Onigiri fusion-style
Trying out Finnish flavours (reindeer is one of them) in onigiri.
Let's make cinnamon rolls!
Squishing them in the middle
You can almost smell them
We can't smell them, but these ladies do. Enjoying the freshly baked rolls
Shogayaki - pork with ginger. I also really like Sachie's cookware
Yum salmon
Deep-frying what looks like chicken karaage
There is a very satisfying crunch as she slices through the meat
Someone orders onigiri
Everyone is curious. What is that?
The movie is great for coffee drinkers too. Lots of scenes of brewing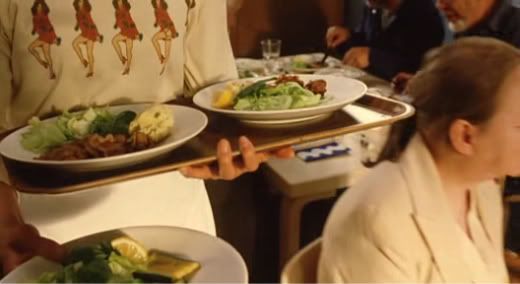 Service!
A happy ending - a full diner
If you can get hold of a copy, go watch
Kamome Diner
. You'll love it. Here's a clip of Sachie cooking
shogayaki and salmon
.