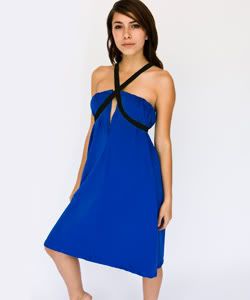 All images from American Apparel. Colours pictured are Orchid, Pomegranate and Royal Blue.
Remember when I said I wasn't interested in shopping? It seems the drought is over. I happened to poke around the
American Apparel site
recently and found the
Le Sac dress
, which can be worn multiple ways. The only limit? Your creativity, and I suppose, the ability to swathe yourself in fabric without it looking like a sack.
Methinks a visit to my local AA shop is in order this weekend. This would be the perfect dress to wear this spring/summer. Now the only decision: which colour to get?