Birthday
I turned 30 on Mon, and to celebrate that, my flatmate and his girlfriend brought me for a scrumptious dinner at
La Trompette
(I picked the place) the night before. Highly recommended if you want scrumptious food but not at cut-throat London prices. Service was also impeccable.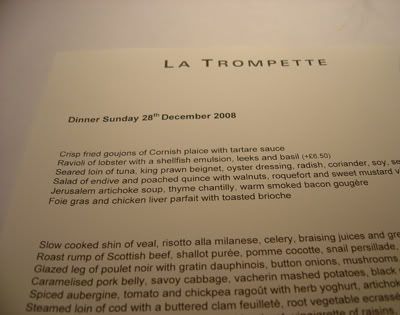 I love that the menu has the date printed at the top. It also seems to vary slightly each day.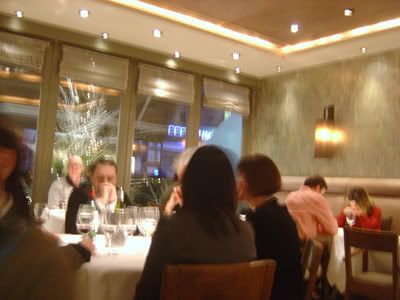 The place is normally full, but since it's the holiday season, the dining room was pleasantly filled. I also like that people don't feel pressured to come eat dressed up. I wore my tutu skirt, but only because I felt like it.
Starter: Seared loin of tuna, king prawn beignet, oyster vinaigrette, radish, coriander, soy, sesame. I love restaurants that do fish properly.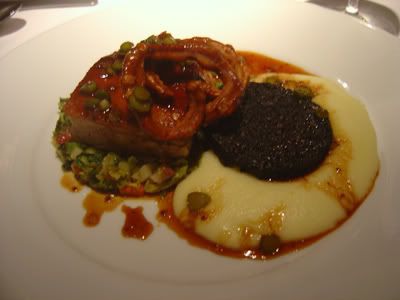 Mains: Caramelised pork belly, savoy cabbage, vacherin mashed potato, black pudding. Beautifully done, if a tad salty. I even liked the black pudding.
Dessert: Pear and frangipane tart with poire william butterscotch and clotted cream. Heavenly, the tart base was the perfect crumbly and crisp texture, and the butterscoth sauce (not pictured) and cream were just too good to describe. Decadent, but hey, you only turn 30 once.
New Year's Eve
Much as I love fireworks, my friends and I didn't fancy jostling with the thousands of people to see the fireworks at London Bridge, so we decided to keep it simple and spend it at home with a good meal. We followed the same format as Christmas dinner i.e. someone else makes the starters and mains, while I handled dessert. And what a meal it was...mmmm. I think I may entertain at home a lot more this year.
Starters: Bacon wrapped around enoki mushrooms and asparagus. We also had chestnut soup (not pictured)
I really do love our butcher - Randalls has the best and freshest cuts. We had sirloin for dinner.
My plate: steak in mushroom red wine sauce, creamed garlic spinach and roast carrots and potatoes with rosemary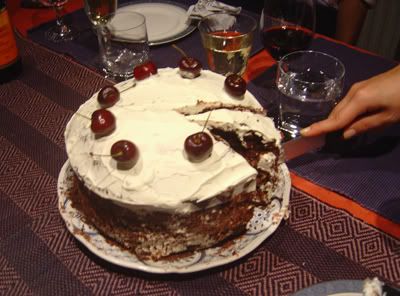 I made black forest cake for dessert, on special request by T and D. The things I do for my friends :) The entire process took about 7 hours to make, but I had fun doing it.
Check it out - 4 layers!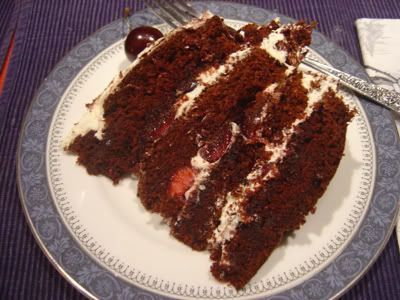 It's impossible to cut a small slice for yourself.
After gorging ourselves and watching the fireworks on TV, we settled down to play Bluff while sipping champagne. I won one round. An excellent start to the new year :)
Happy New Year to you all. May 2009 bring you bigger, better blessings than the last year.