I don't have time to click through all the collections on style.com, so I pick and choose designers I like. Here are a few that I enjoyed:
Doo.ri
I've been following Doo.Ri ever since Wanz debuted a lovely mint dress at one of her private sales (Incidentally, I do miss those sales!). I just love her easy breezy style and use of silks and soothing colours.
Vivienne Westwood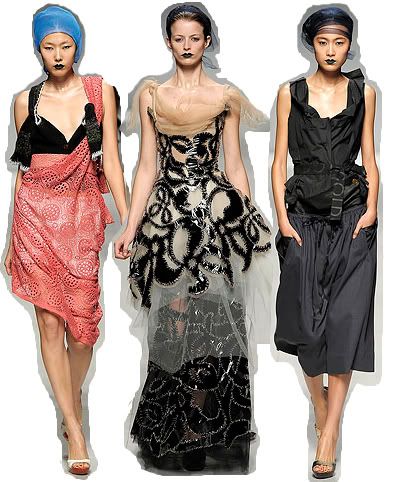 It may not look like it, but I think Vivienne Westwood's clothes are actually quite wearable. You just have to look at each piece individually.
Gap
Patrick Robinson has designed a great basics collection. It looks quite European actually. I do love that white dress.
Marc by Marc Jacobs
Marc Jacobs is sometimes a hit and miss with me, but I mostly tend to like his younger (and cheaper) label for its youthful vibe, great colours and cute dresses. Also, am starting to think fanny packs are a great idea for going out.
All pictures from
style.com
.